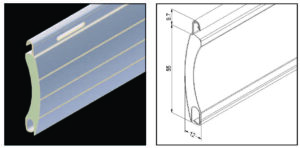 This roller shutter range is made with a precision roll formed roller shutter profile, and is suitable for many widespan applications.
Domestic Windows.
Domestic Doorways.
Garage Doors.
Light Commercial Shop Fronts & Windows.
Counter Tops/Serveries.
Entry Level Security for Factories, Warehouses, Clubs, Pubs & Hotels, Restaurants, Pharmacies & Sports Complexes.
CW Products recommends the use of Photo Safety Cells and a Safety Brake when installing automated roller shutters over openings and doorways. Especially when the roller shutter is not in full view of the operator (eg. when using a remote control or wall switch positioned away from the roller shutter and out of view). When using a wall switch, we recommend a spring return switch/deadman switch.
| | |
| --- | --- |
| Maximum Shutter Width | 4500mm |
| Maximum Shutter Height | 3000mm |
| Maximum Surface Area | 10m2 |
| Curtain Weight/Metre2 | 4kg |
| Number Of Slats/Metre | 18 |
| Profile Slat Covering | 55mm |
| Profile Slat Thickness | 12mm |
| Axle Types | Octagonal Steel |
| Bottom Bar Dimensions | 55mm x 8.5mm |
| Guide Dimensions | 68mm x 25mm/18mm |
| Paint Finish | Polyurethane/Polyamide (PU/PA) |
| Inner Profile Foam Type | Poly Urethane (CFC Free) |
Roller Shutter Colour Options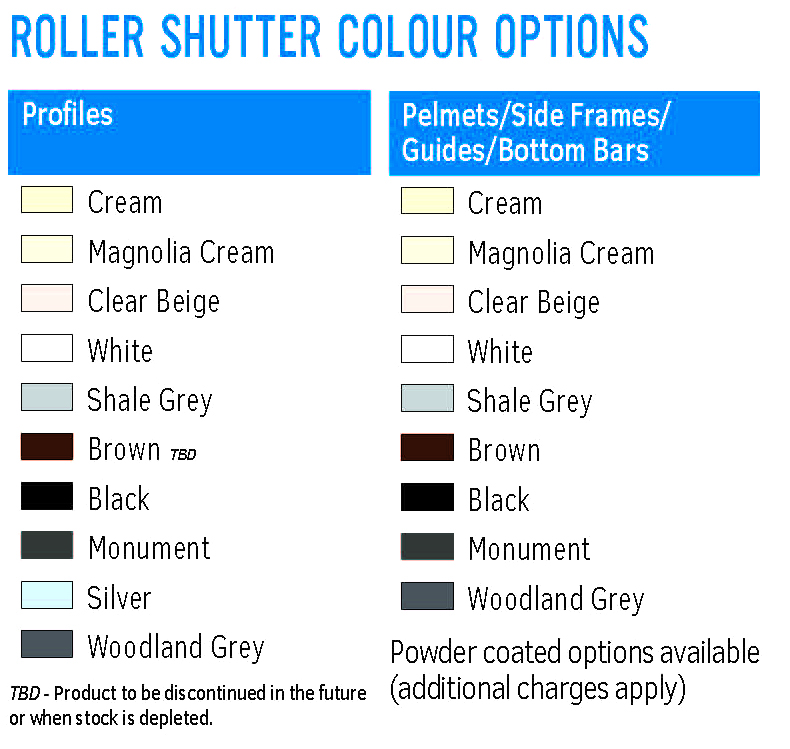 Pelmet Sizes & Maximum Shutter Height
| Pelmet Box Size | Max. No. Of Slats | Max. Shutter Height (Including Pelmet) | Axle Size |
| --- | --- | --- | --- |
| 180mm | 23 | 1400mm | 70mm |
| 205mm | 38 | 2250mm | 10mm with adoptor |
| 205mm | 42 | 2450mm | 70mm |
| 230mm | 52 | 3000mm | 10mm with adaptor |
| 230mm | 54 | 3200mm | 70mm |
Wind Speeds & Maximum Shutter Width
Wind Speed
Max. Shutter Width
Max. Surface Area
m/sec
km/h
11.2m/sec
40.32km/h
4500mm
10.5m2
13m/sec
46.80km/h
4000mm
10m2
15.8m/sec
56.88km/h
3300mm
8.25m2
20.4m/sec
73.44km/h
2900mm
7.25m2
25.9m/sec
93.24km/h
2500mm
6.25m2
34.9m/sec
125.64km/h
2500mm
6m2