50mm Extruded Vision Roller Shutter
This roller shutter range is made with a precision extruded roller shutter profile, with approximately 20% vision and ventilation perforations, and is suitable for many commercial and industrial grade applications.
Commercial Windows.
Commercial Shop Fronts & Doorways.
Garage Doors.
Security for Factories, Warehouses, Clubs, Pubs & Hotels, Restaurants, Pharmacies, Sports Complexes, Arcades, Shopping Mall Entrances & Shopping Centre Grilles.
CW Products recommends the use of Photo Safety Cells and a Safety Brake when installing automated roller shutters over openings and doorways. Especially when the roller shutter is not in full view of the operator (eg. when using a remote control or wall switch positioned away from the roller shutter and out of view). When using a wall switch, we recommend a spring return switch/deadman switch.
| | |
| --- | --- |
| Maximum Shutter Width | 5500mm |
| Maximum Shutter Height | 3000mm |
| Maximum Surface Area | 9m2 |
| Curtain Weight/Metre2 | 8.5kg |
| Number Of Slats/Metre | 20 |
| Profile Slat Covering | 50mm |
| Profile Slat Thickness | 10.8mm |
| Axle Types | Octagonal Steel |
| Bottom Bar Dimensions | 67mm x 10mm |
| Guide Dimensions | 68mm x 25mm/18mm |
| Paint Finish | High Quality Powder Coat Finish |
Roller Shutter Colour Options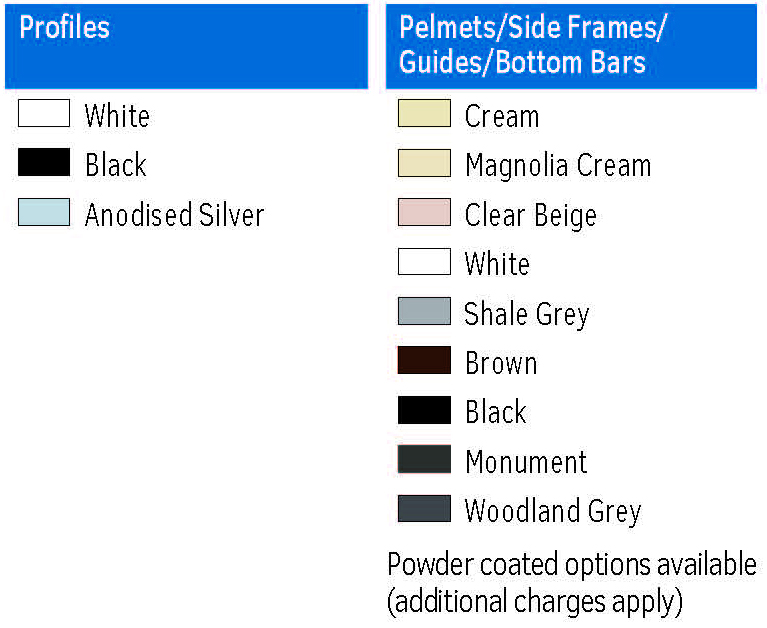 Pelmet Sizes & Maximum Shutter Height
Standard Slat Locks
Pelmet Box Size
Max. No. Of Slats
Max. Shutter Height
(Including Pelmet)
Axle Size
180mm
33
1750mm
70mm
205mm
44
2350mm
70mm
230mm
56
2950mm
70mm
250mm
70
3700mm*
70mm
250mm
64
3350mm
101mm with adaptor
250mm
55
2990mm
130mm with adaptor
* Measurement exceeds recommended maximum shutter height. May be allowed if other technical specifications are met. Check with your local CW Products representative.
| | | | |
| --- | --- | --- | --- |
| 180mm | 23 | 1250mm | 60mm |
| 180mm | 17 | 950mm | 70mm |
| 205mm | 36 | 1900mm | 70mm |
| 230mm | 44 | 2300mm* | 70mm |
| 250mm | 50 | 2600mm | 101mm with adaptor |